Featuring pristine lakes, stunning mountains, unspoiled coastline and luscious forested areas; Canada is a truly memorable place to uncover in a car. As already mentioned, Alberta is arguably the most spectacular region to take a road trip but with so many opportunities to explore, the prospect of extending your journey from weeks to a matter of months could be the most rewarding decision you ever make.
Few places around the world are home to the same diversity and natural beauty as the province of Alberta. In fact, this beautiful region should be on every travel itinerary in North America, but then there is much more awe inspiring scenery in National Parks and wilderness areas to explore on a road trip in Canada. Whether you stay for one week or longer, a rewarding experience awaits.
Doing a road trip on a motorcycle in Canada can be very rewarding and there a many sites to visit.
Here are some of the best places to take a road trip in Canada:
Alberta and into the wild
Located in the heart of the Rocky Mountains, Banff is picture perfect and often on the front of travel magazines such is the spectacular nature of the landscape. Featuring an endless lineup of towering peaks, the mountains are home to caribou, moose and even grizzly bear but even if they should elude you, the sight of Lake Louise is impossible to miss. While Banff is no doubt a highlight, you should also find many more interesting destinations to stopover here including Canmore, Edmonton and the vibrant city of Calgary.
Exploring the west in British Columbia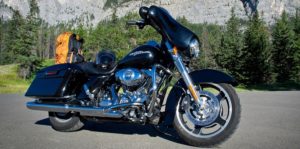 While Whistler and the mountains are often the main focus for many who take a road trip in Canada, the western shoreline is undoubtedly rising in popularity all the time. Of course, Vancouver is central to this popularity for a good reason and makes the perfect start or end point for a travel itinerary. However, the scenery and places to visit along the west are best evidenced on the incredible West Coast Trail which travels for 75km along the coastline. Although you will not take to this trail in the car, taking a road trip along this region is an easy way to check out some of the most scenic locations without having to trek for days between them.
Niagara Falls and Algonquin in Ontario
Toronto is another busy travel destination which never fails to disappoint visitors. Sitting on top of Lake Michigan, the city is home to a beautiful cityscape and endless attractions, but it also makes the perfect gateway to the surrounding areas. Take world famous Niagara Falls for example, which lies 120km southwest of Toronto or the wild setting in Algonquin Park. Niagara Falls should need no introduction, but the latter is a wild and genuinely beautiful park to the north of the city. Featuring luscious forests, flowing rivers, exotic wildlife and memorable viewpoints from which to seem them, it may not be the most popular park, but it is certainly one of the best to visit on a road trip in Canada.
Explore the isolation of Newfoundland
Just off the eastern shoreline of the mainland, Newfoundland can feel like a million miles away from Canada and with affordable car rental, great roads and unforgettable places to stop, it is also a wise choice for a road trip. As with the opposite side of the country, you will also find a long distance hike in these parts called the East Coast Trail, but Gros Morne to the north of the island is arguably a better place to take a road trip. Winding around an immense landmass, the road is accompanied by incredible scenery and with several opportunities to enjoy boat trips and hiking along the way.
Insurance
When traveling on motorcycle in Canada remember to have the right insurances. You can find help on sites like this article on 6 things to know about motorcycle insurance, Bilforsikring, and an article on motorcycle law in Canada.